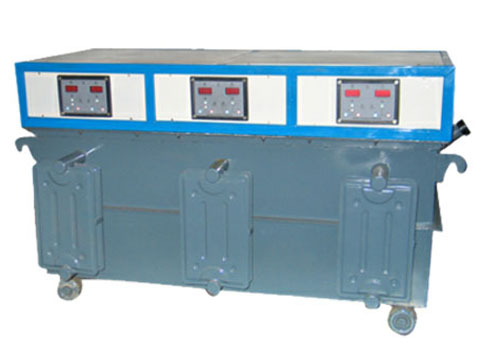 Servo Voltage Stebilizer
GENERAL FEATURES
Capacity
1 K.V.A To 80 K.V.A
Input Voltage
170 To 280 V.AC
140 To 280 V.AC
90 To 270 V.AC
Output Voltage
230 V.AC± 1%
Supply Frequency
47 to 53Hz
Load & Line Regulation
1%
Waveform Distortion
Nil
Effect Of Load
None
Ambient Temperature
0 To 40ºC
User Field:-
Information technology and call center:
• Commercial Builiding and complexes.
• Computer and Micro Processor Central Systems.
• CNC Machines, Laser Machines and Moulding Machines etc.
• Center Air-conditioning Plant,Processiong Plants, Chemical Industries, Textile Industries.
• Defence Installation LPTs, HPTs, Broadcasting and Telecommunications.
• Sophisticated research Instruments used in Scientific,Medical, Agricalture, educational and research institutions.
• Offset Printing presses, Colour, Scanners processors, Phototypesetters, Photographic. Equipment, Photocopier and packing Industries.
• Petrol Pumps.
• Medical Eqiupment,X-Ray Machines, ECG Machines/Monitors, Refrigerated System, Centerfuge, NMR, MRI, CT Scanner.
• Lifts,etc.
Advantage:-
Correct Voltage automatically and continuosly.:
• Reduction in Electricity bills up to the level of approximately 20%.
• Reduction in failure rate of electrical eqiupment.
• Improvement in power factor and reduction in MDI.
• Less production losses & better efficiency in plant.
• Increasing productivity.
• Compact design.
Product Details
Product Reviews